In the last few months, I have become gluten free. It has changed my life…..no more achy joints, less headaches and more energy! As of now, I am 100% gluten free and let me tell you something….it is not fun at all if you happen to eat something that contains gluten. I am the only one in my family of four that is gluten free, but there are things that my kids will eat. For example:
Tonight, I made these delicious gluten free peanut butter cookies for dessert! They were super yummy!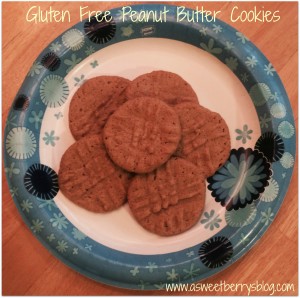 Here is how I made them:
Ingredients:
1 C Peanut Butter
1 C Sugar
1 Egg
Directions:
Preheat your oven to 350 degrees.
Add the ingredients to a mixing bowl and mix until the ingredients are combined. Roll into 1 inch balls and place on a baking pan. No need to grease the pan. The peanut butter has enough oil in it! Using a fork, press the cookies!!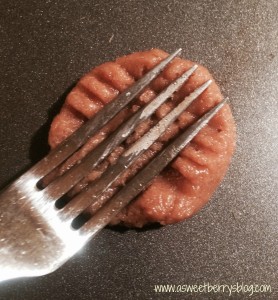 Bake for 8-10 minutes at 350 degrees.  Remove and let cool before removing from the tray.   Or enjoy them warm!!!
Recipe made 24 cookies at 77 calories each!
These cookies were relish!  And the boys in the house loved them!!!
It's been very interesting going gluten free.  Before, I had never really looked at nutritional labels, but now I do.  It's amazing what foods do and don't contain gluten!
Until next time……