Merry Christmas to you and your family!
As I sit here now that everyone has gone to sleep, I am reflecting on this joyous day! It was filled with excitement, a couple of meltdowns, great food and lots of family time! Christmas is my favorite time of the year! The look on the children's faces once they see what the Jolly Ole Guy has left under the tree is worth all of the stress of the whole year!   As I laid awake in my bed from about 5:30am until I heard the kids start to move around in their beds, I quickly jumped up as soon as I heard a foot hit the floor.  I was almost too late to catch this picture so it's a little blurry!  I love trying to get a picture of them as they come down the stairs once they see what Santa has left for them!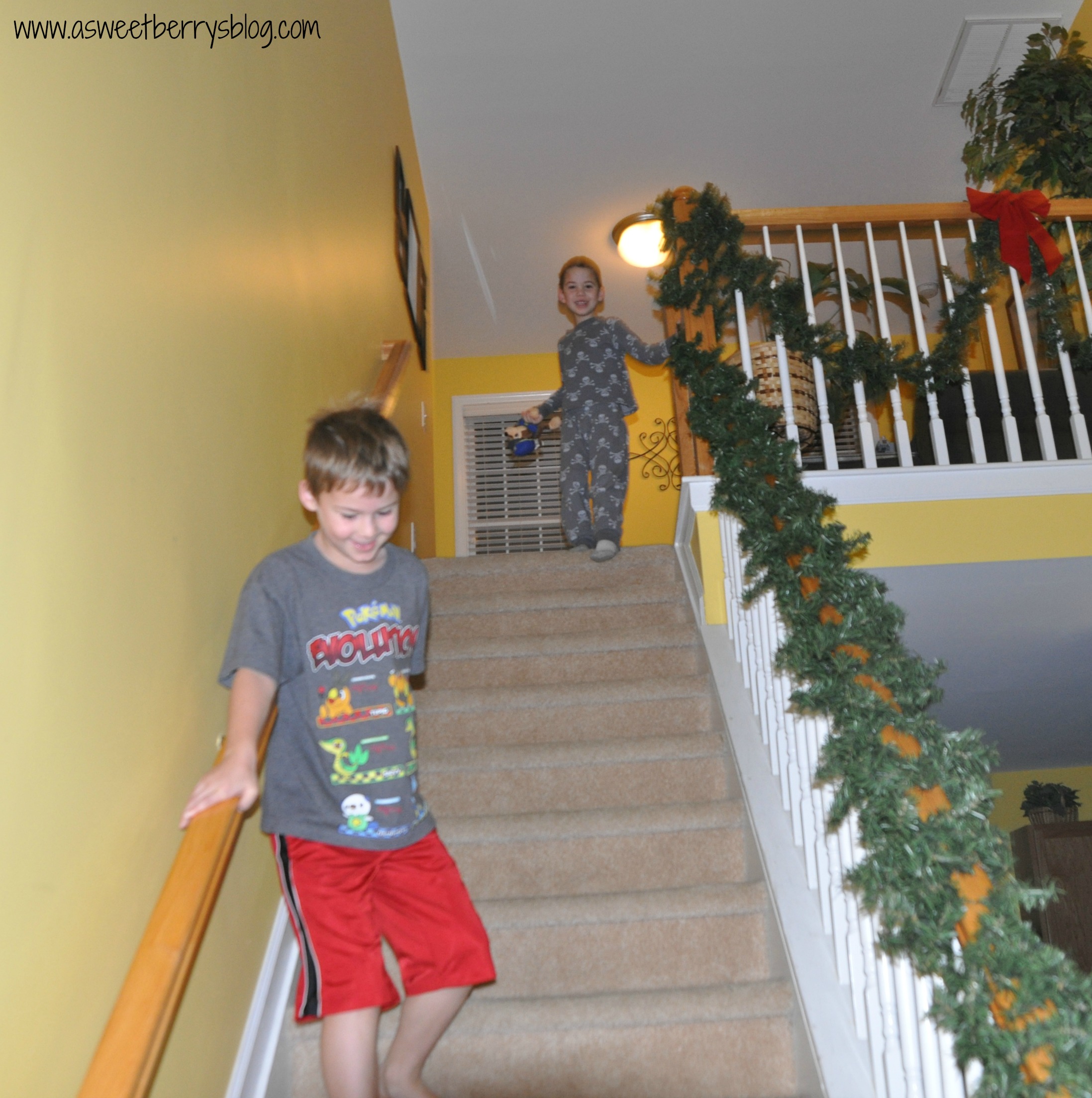 Now, I know that everyone has their traditions.  As I was growing up, Santa never wrapped his gifts.  They were always laid out on the couches, my pile on one and my brothers on the other!  Santa always wrapped Bruce's!  For our kids, Santa has always wrapped his gifts!   What does Santa do for your family?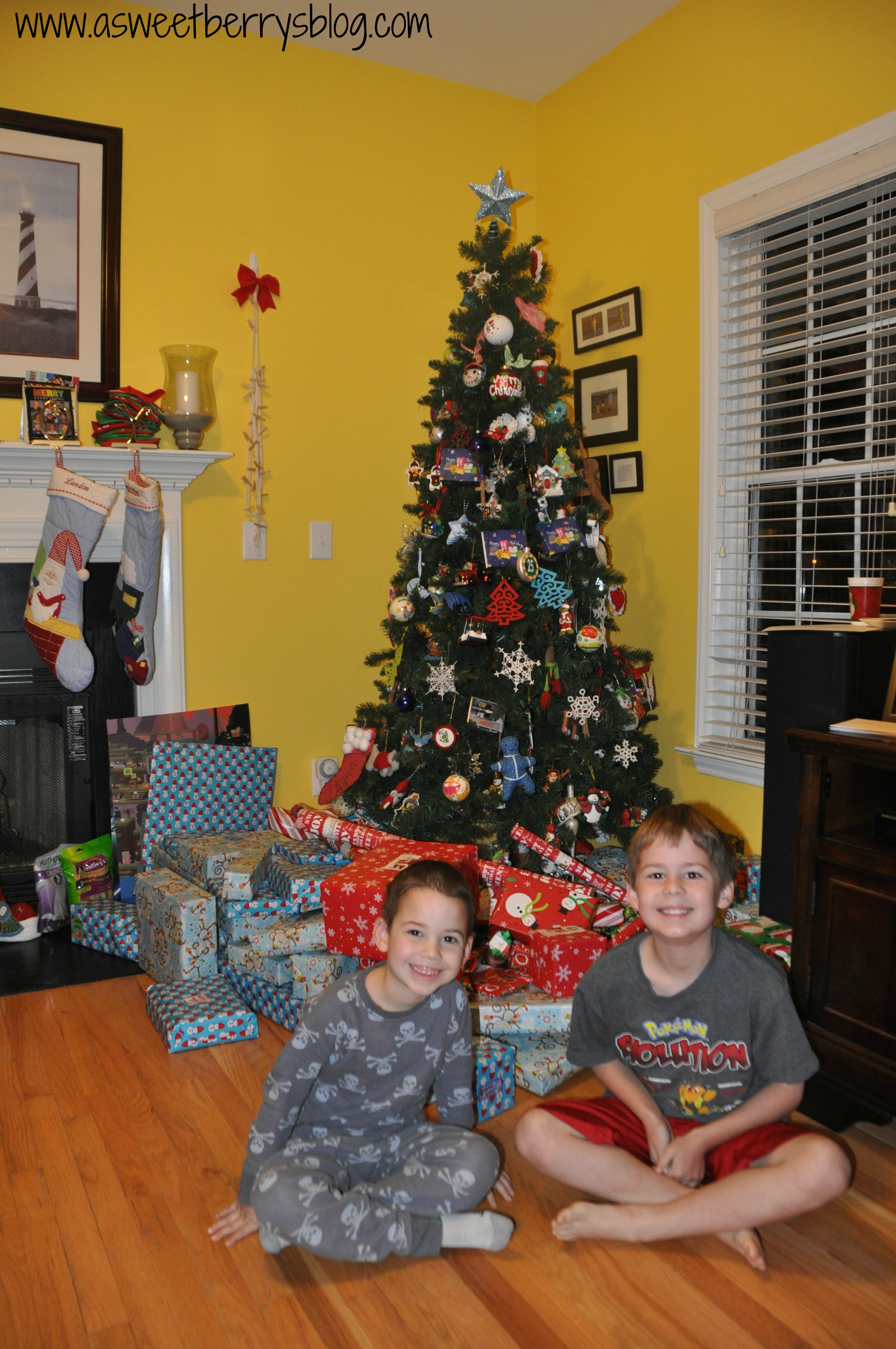 Our day in a nut shell…….After the kids woke up, we let them open one gift.  We had to wait for Uncle Rhett, Cousin Jory, Grandma and Grandpa to arrive.  I put a sausage and egg casserole in the oven!  Once they were all here, everyone opened one gift!  Breakfast of casserole, pancakes (Berry family tradition and now cooked by Bruce), and fruit were served!   And coffee too!!!   After breakfast was done, the present opening was on!  Trying to keep our anxiety under control, we opened one gift at a time!  Yes, this took a while.    Here are a few of our favorites: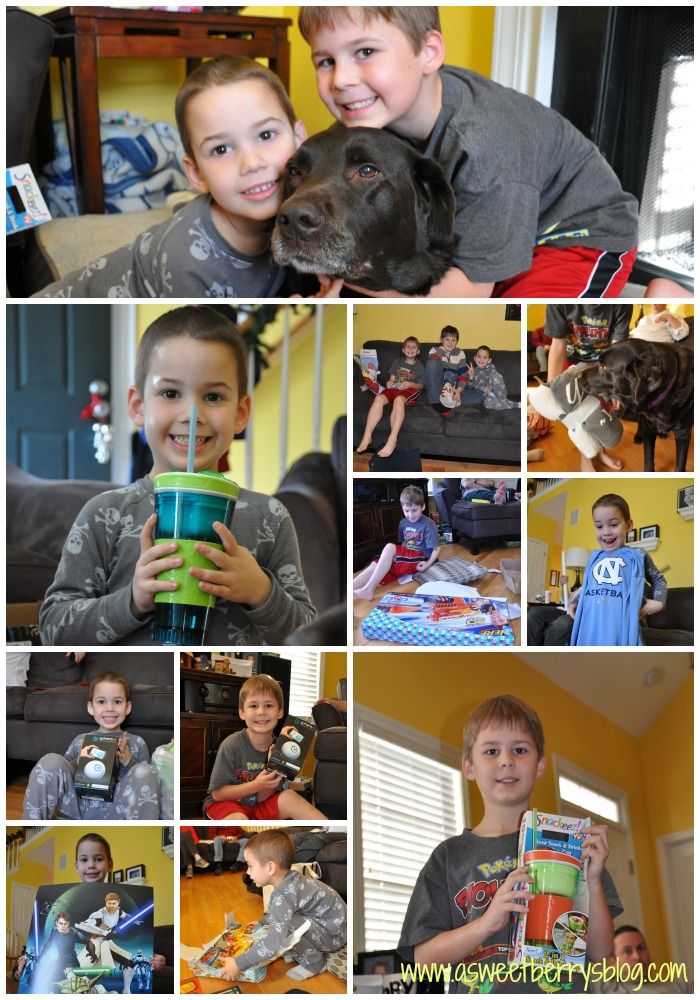 After all of the presents were unwrapped, it was time for lunch!   Then it was time for some down time.  Everyone left and we just hung out as a family of four, put together some legos, opened all of the packages (those annoying plastic things….ugh) and just sat around.  Then it was off to Grandma and Grandpa's house for more presents and a yummy dinner of a Rochester, NY Sausage Soup!  And then home for bed!
Hmmm….not sure that was entirely a nut shell, but it wasn't too long!  
I know Christmas Day isn't only about the presents.  Thankfully, my children know and understand why this day is special, the day that Jesus was born to Mary and Joseph!   And we are blessed and feel very fortunate!   
I also sit here and think about those that are no longer here with us, but look down on us from Heaven.  And I think about the friends and family that we have all over the country and how much we miss you all.
So, I hope that you had a great Christmas and that Santa was good to you!  And I hope that you all have a "Berry" Happy New Year!!!
Peace and Love!